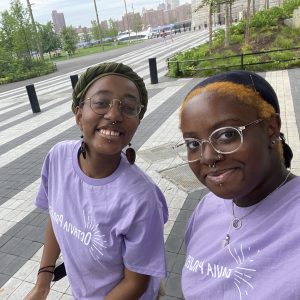 Dear Octavia Project Community,
I am writing to you as an Octavia Project alum and Teaching Fellow. This program has challenged me in ways I never expected. Entering the program as a cynical and soft-spoken tenth grader, I was prepared to keep to myself and explore the arts & sciences within the boundaries of my comfort zone. Fortunately, the OP isn't a space where plans like mine come to fruition. From the community playlists to Twine game share-outs, it became clear to me that people at the OP wanted to hear what I had to say. Initially, I thought that maybe I didn't have much to contribute. Though, through the many story- building activities and amazing guest speaker visits, I realized that maybe I had much more to contribute than I thought. Then, all of a sudden, I was presenting the performers for the final showcase. As someone who only a year prior had run away from speech & debate competitions, this was a feat. And while I wasn't a perfect presenter, it was an important first step that I could take at the OP. First and foremost, the OP helped me learn that I am someone worth listening to.
Fast forward to my freshman year of college, where I am still trying to find my voice. I am still very much the "quiet kid," but I've learned that isn't a bad thing. One of the most beautiful things about the Octavia Project is the voice it gives to people like me. My decision to apply for the Teaching Fellow position was daunting, but one of my main motivators was getting to work with the quiet kids. I thought that, maybe, I could make them feel heard the way the OP had for me. I met several wonderful kids and each of them had a unique voice and something to share with the rest of the community. It was so rewarding to have kids, who on the first day were quiet and reserved, begin sharing their art and stories with the group. The Octavia Project is truly a community in which every participant is encouraged to share a piece of what makes them special.
On a personal level, being a Teaching Fellow taught me that I have the capacity to be a leader and guide others. Initially, I had doubts that I would be a good teacher because of the assumption that I didn't have the confidence or authority. I had always viewed teachers as unwavering and pragmatic, and I still harbored my very soft-spoken nature. Though, by watching my co-teachers and observing their teaching styles, I realized that there are many ways to be a good teacher. I didn't need to be an authoritative figure, I just needed to make an effort to be available to my students' and co-teachers' needs. I could create bonds with the people around me instead of the distant relationships I was used to having with my teachers. This is another way that the Octavia Project is a community and not just a summer camp. Most importantly, my time as a Teaching fellow taught me how to better engage with others, especially those younger than me. It has transformed how I interact with kids outside of the program too, like my little brother. I realized that an older sibling doesn't have to be another authoritative figure (much like a parent), but someone you can trust to guide you. I am grateful to the OP for allowing me to make this change and learn how to be a better leader.
Sincerely,
Autumn Knight