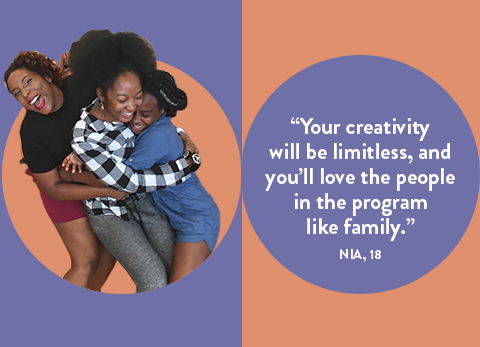 At the Octavia Project, we've been focused on building a strong community with tight relationships and trust because our teens deserve it.
A community that has your back can be the push you need to write your truth or get up on stage for the first time. More than six years ago, we came together to build a program that would bridge teens' passion for science-fiction stories with skill-building and mutual support. Like the protagonists in the stories we love, our participants come together each summer to create something new, revelatory, and inspiring.
Your donation helps teens like Nia build the community she wants and needs. Help us raise $25,000 so we can continue to nurture and expand this incredible community and welcome in more girls and non-binary youth in 2020.
The Octavia Project is now officially a 501(c)3 non-profit! This means that we no longer need to take donations through a fiscal sponsor so more of your donation will go directly to support our program costs. Contributions for the charitable purposes of The Octavia Project are tax-deductible to the extent permitted by law. EIN 83-3975000
To donate by check, please make checks out to "The Octavia Project, Inc." and mail to:
Octavia Project
PO Box 381031
Brooklyn, NY 11238