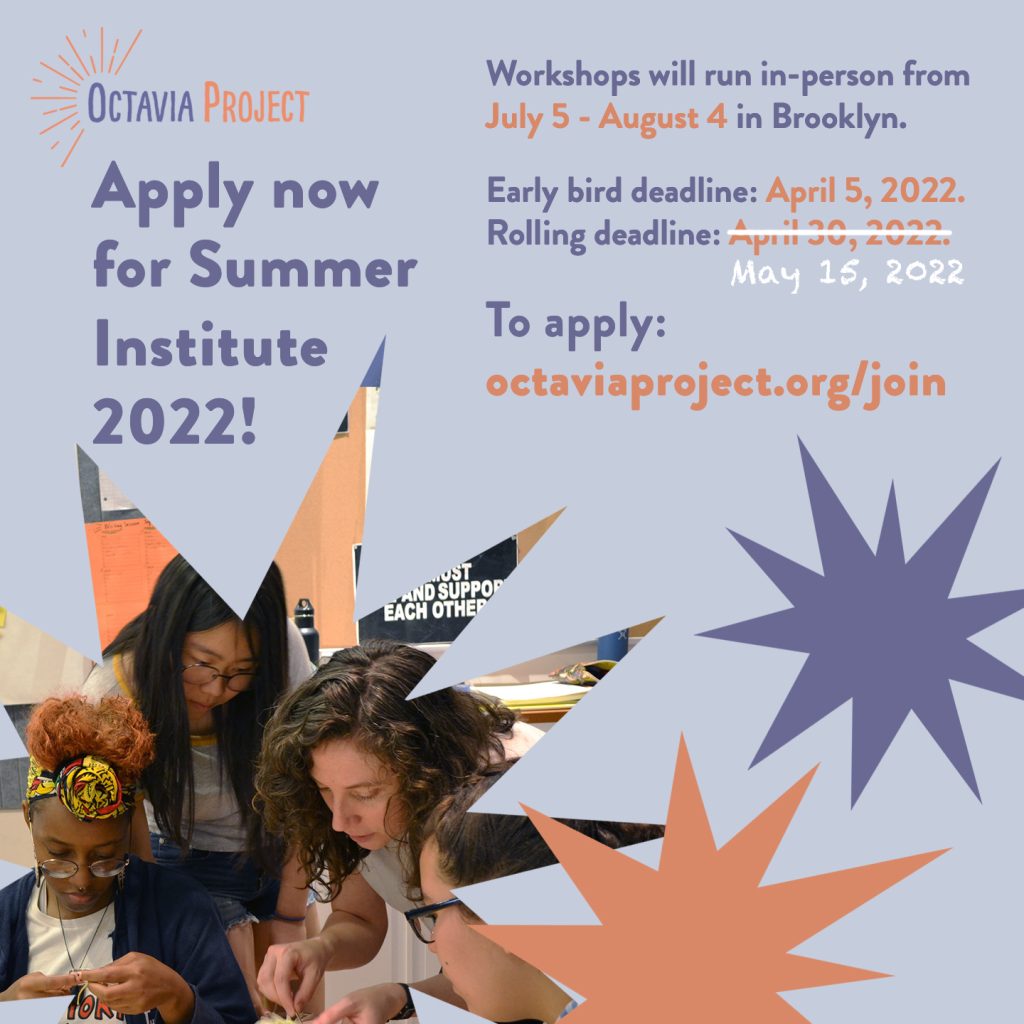 Are you interested in anime/manga and fantasy culture? Do you write science fiction or love to draw? Would you like to learn new coding skills? Then join the Octavia Project!
The Octavia Project Summer Institute is a free summer workshop program based in Brooklyn for young women and trans, nonbinary, and/or gender non-conforming youth ages 14-18 to bridge their love of science fiction, writing, art, and technology!
Our 5 week program runs from July 5 – August 4, 2022. We meet four days a week—Mondays, Tuesdays, Wednesdays, and Thursdays—from 12:30pm-4:30pm. Our 2022 Summer Institute will run in-person at Pratt Institute in Brooklyn. Please note that students will need to be vaccinated against COVID-19 to participate in our program this summer.
An Octavia Project participant will finish the program armed with:
Strengthened skills in digital-media, art, and writing, as well as a greater confidence in science, technology, engineering, and math (STEM).
A collective of peer creatives sharing thoughts and ideas.
Access to a network of professional women, fellowships, and other leadership opportunities.
Publication in the Octavia Project zine.
Octavia Project participants are:
Young women and trans, nonbinary, and gender nonconforming youth who are 14 to 18 years old.
Brooklynites, or able to travel to Brooklyn on a daily basis.
Available to attend workshops 4 days a week, 12:30-4:30pm, July 5th-August 4th.
Into science fiction, fantasy, fan-fiction, art, writing, science, tech, gaming—or interested in learning more about these topics!
To apply:
We welcome applications on a rolling basis until May 15th.
If accepted, we will also share a permission form that requires a parent/guardian signature.
Questions?
Email us at enrollment [at] octaviaproject.org.